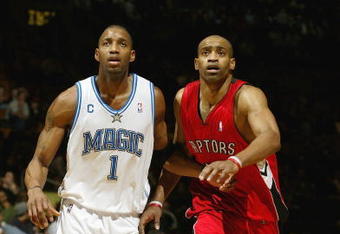 "We just felt like nobody could stop us" - Tracy McGrady on his time with Vince Carter in Toronto.
Today on TSN at 5pm est, a very special episode of Off The Record with Michael Landsberg treats basketball fans all over Canada with guests Vince Carter, Tracy McGrady, and Charles Oakley. The trio will be talking about their time in Toronto and possibly what could have happened had the dynamic duo decided to stay together.
I've always been of the opinion that had the cousins grown together in Toronto, they would have ended up being one of the greatest duos in NBA history. Vince Carter ended up being the face of the NBA for the next few years, while Tracy McGrady became the original Kevin Durant with better athleticism and defensive skills. Two legitimate MVP candidates on the same team.
If only.