While the NBA and the players union battle it out for financial supremacy, Toronto Raptors' General Manager Bryan Colangelo continues to search for the right man to take the job. Without as much worry as the other teams in regards to dollar signs (Forbes listed the Raptors as the 10th most valuable team in 2011), the front office can finally zero in on who will take over as the next GM.
We thought it was going to be Sixers GM Ed Stefanski. But according to recent reports, it looks like talks have slowed down, and the doors have been reopened for former Blazers GM Kevin Pritchard and former Hornets GM Jeff Bower. All three would bring credibility to our team and add another mind for Colangelo to bounce ideas off of.
The question is, which one is most appealing?
Is it still Stefanski? The man is credited with recently building the young and athletic Sixers team they have in Philly. He's very comfortable with bringing in a youth movement (Jrue Holiday, Evan Turner), but he also makes questionable decisions with useless veterans (Iverson, trading for Kapono).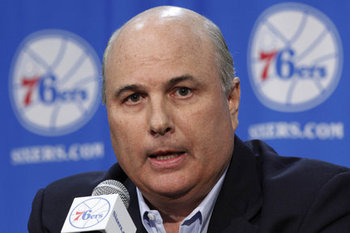 What about Kevin Pritchard? Backtrack a few years ago, and the Portland Trail Blazers were the envy of the basketball world. Roy, Oden, Aldridge, Batum. There were whispers of the Western Conference having to go through the Blazers eventually. But then came the injuries. Toronto would gladly welcome Kevin, but will his reportedly unwillingness to play with others hurt a possible relationship with Colangelo? Portland didn't think his personality was worth their time.
Lastly, there's Jeff Bower. Forget his awful and short coaching career. Instead, consider the year he turned the Hornets from a stepping stone to a throwing stone. In the 07/08 season, we were treated to an exciting dose of CP3, Chandler, West, and Peja. Bower also knows how to turn things around in a hurry, demonstrating this best when he traded Hornets star Baron Davis and drafted Chris Paul with the 4th pick the upcoming offseason.
My guess? Ed Stefanski.
My hope? Kevin Pritchard.
Regardless, keep Kevin Garnett away from the negotiating room.