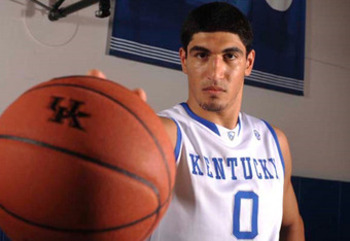 So this year, the folks at Hoops N Hip-Hop will be behind a feature called "2011 Rookies: A Raptor In Disguise". Leading up to the draft, a new article will be posted up on the GamePointBlog and RaptorSpace, introducing and analyzing every rookie that will be within range of the Raptors' 5th overall pick. Though much is uncertain, we know one thing for sure, one of these players will be asked the question every rookie dreams of hearing:
"Are you concerned about the taxes up there in Canada?"
Meet
Enes Kanter of Kentucky University
Age: 19
Nationality: Turkish/Born in Switzerland
Height: 6'11
Weight: 260
Position: Power Forward/Center
Hoops N Hip-Hop Co-Host and Writer
DeeJae Johnson
:
With the NBA lottery balls not bouncing in the Toronto Raptor's favour, it seems that the dream of the backcourt involving Kyrie Irving and Demar Derozan are now down the toilet. President and General Manager Bryan Colangelo has stated that the first and second pick in the 2011 draft is either Arizona's Derrick Williams or the fore mentioned Duke product, Kyrie Irving. Despite the draft being considered as a two pick draft, the Raptors find themselves with the fifth pick and more questions than answers as to how to progress from the 22 win season. The Raptors are in need of a strong low post player who can rebound, and the one name that comes to mind is Enes Kanter. With Enes' being ineligible to play for Kentucky (due to issues with receiving over $33,000 while playing with a Turkish basketball team), the only game to go on was his 34 points and 13 rebounds performance at the Nike Hoop Summit against team U.S.A. The 6'11 center proved to be dominant against highly recruited high school players.
From seeing Kanter at the NBA Draft Combine, he is an excellent rebounder, is quick off his feet and has a bit of athleticism that surprised most scouts. I think if he was to become a Raptor as the fifth pick, he would immediately make the team better defensively with his length and his rebounding ability. Offensively, Kanter has plenty moves and counter moves that make most question how good he can possibly become in the future.
Take a look at highlights from the Nike Hoop Summit game that DeeJae and many other scouts will have to refer to of Enes Kanter:
Hoops N Hip-Hop Producer and Writer
Rose Arcana
:
I'll be honest. I'm not thrilled with the concept of Enes Kanter as a prospect for the Raptors. He's unproven, offensive minded with similar game and mentality as current Raptor players, and fills a position that the Raps don't really need right now (yeah - I think he's a PF and not a C). Sure people can argue that he is a great player. Of course he is or he wouldn't be in the draft, let alone considered in the top 5. You could also say that he isn't a typical European player because he went to high school in the US and college at University of Kentucky. Yet I would counter by saying he played one year of high school ball and didn't really play much of any college ball, he was just assisting the coach because he wasn't eligible to play. Then people might bring up the fact that he played in the Euro-league and again I would remind them that he was a seldom used 'reserve' player that barely saw playing time and only played FOUR games in the Euro-league and only FIVE games in the Turkish Basketball League. No matter how good Kanter looks in workouts, Kanter isn't Rubio. This is a guy that has potential but at the end of the day still falls 'SHORT' of being the big man that Toronto wants and needs. I say pass on him, Raptors don't need another offensive PF pretending to play center….
All in all Kanter is a great player, he's a good but not a great fit for the Raptors. I say Kanter gets drafted #6.
Check out the vid below as NBA TV analysts breakdown the same concerns and questions Rose had about Kanter
Kris Cuaresma's
Conclusion:
Strengths: NBA-ready body, good amount of post moves, looks comfortable down low, impressive footwork, can hit the mid-range jumper, high motor, goes after rebounds, hard worker, has more than enough strength to hold his own in the NBA
Weaknesses: lack of experience, injury concerns, athleticism question marks, trouble rotating on defense, not looked as a shot blocker, foot speed will need to improve
Personally, I think it's going to take awhile, but Kanter will definitely be an impact player in the NBA barring any serious injuries. He's only 19, so there will more than his fair share of bumps and hurdles, but it looks like he's got the tools to succeed. He has a body meant for the NBA on both sides of the floor, and seems to have a good grasp of the fundamentals. This along with the reports of him being a hard worker will go a long way in neutralizing his weaker athleticism. I know there was that video of his combine drills running the floor and dunking the ball, but he's always been able to do that, and still either refuses or is unable to in the middle of a game. Because of this, I also don't see him being a dominant shot blocker either.
However, his main strengths will be with his offensive arsenal and defensive rebounding. If all goes well in his career, I can see him being a taller and stronger
Luis Scola/Al Horford
hybrid. Both are power forwards who won't wow you defensively, but are solid offensive options and work hard on the defensive end.
Will the Raps take him at #5? If they somehow move Ed Davis or Bargnani on draft night, then probably. But realistically, I don't think they will. I like Davis at the 4 spot with his shot blocking mentality anyways.
Where will
Enes Kanter
go? He has the biggest question marks attached to him. He could go at #2 to the Wolves and team up with Kevin Love forming one of the best rebounding duos. Or he could go #4 to the Cavs who would probably give Cleveland their small-big combo of the future with Irving. I think the furthest he could potentially slip is to Washington at 6, where he and Wall could do some damage together.