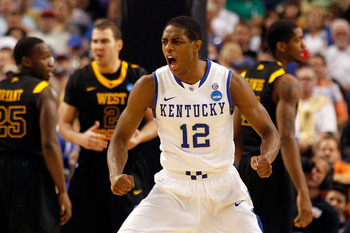 So this year, the folks at Hoops N Hip-Hop will be behind a feature called "2011 Rookies: A Raptor In Disguise". Leading up to the draft, a new article will be posted up on the GamePointBlog and RaptorSpace, introducing and analyzing every rookie that will be within range of the Raptors' 5th overall pick. Though much is uncertain, we know one thing for sure, one of these players will be asked the question every rookie dreams of hearing: "Are you concerned about the taxes up there in Canada?"
Meet Brandon Knight of University of Kentucky
Age: 19
Nationality: American
Height: 6'3
Weight: 177
Position: Point Guard
Hoops N Hip-Hop Co-Host and Writer
DeeJae Johnson
In a land filled with despair, where velociraptors roam with a basketball in their hands. Winning and losing come down to talent, effort, and the willingness to strive for greatness. We need a hero. No… we need a (Brandon) Knight in shining armour, or maybe not? The 6'3, 177 pound guard is projected to go anywhere from three to nine, and with Toronto having the fifth selection in the draft, what makes him worthy of roaming with the rest of the velociraptors? The Kentucky product is an excellent shooter, especially from the mid range. Knight has an average handle on the ball but balances that with enough craftiness and speed to get to the rim. Knight averaged 17 points, four rebounds, as well as four assists as a freshman. My concern is that Knight is more of a scoring guard, for example, like current Toronto Raptor, Jerryd Bayless. With the hopes of continuing to develop Bayless, there isn't a need for Knight. There is no doubt in my mind that Knight will be a successful point guard in the NBA and it doesn't hurt he had a college coach like John Calipari, who has helped produce John Wall, Tyreke Evans and this years M.V.P. Derrick Rose. With a team that wants to accelerate their abilities on the defensive end, Brandon Knight may not be the correct pick at five, but at the age of 19, time is on his side if he makes an effort to commit to that side of the ball.
Check out this video from FoxSports touching on DeeJae's concerns about Knights play style and the journey he's going to have to take to become a point guard:
Hoops N Hip-Hop Producer and Writer
Rose Arcana
If Brandon Knight were to actually fall to #5 then it would be a no-brainer to snatch him up without hesitation. Toronto needs some young fresh intelligent blood and I believe Knight paired with Derozan along with a real center could really push this team to new levels. I'll be honest; I'm a Kemba fan which you will see in a later installment; however Brandon would probably be my next choice in this year's draft for point guards. Sure everyone is on a Kyrie kick, but not this girl. If I were a GM I would pick Brandon and let you curse me this year because in about 3 years you will be calling me a genius.
One thing Brandon has proven this year is that he can be taught and he is more than willing to learn and improve. Raw talent isn't everything. Let's face it there aren't any surefire superstars in this year's draft so you need to look for someone that is moldable. That is one thing The Raptors need, a player that is willing to be molded, taught and works hard. This is a guy that had a 4.6 GPA in high school (due to accelerated classes that give you extra points) from an academic minded elite prep school and then went on to University of Kentucky to finish the year with a 4.0 (straight A's)! He has grades that rival mine and I have nothing but respect for that. Of course this upside is only as great as the coach they bring in to teach him.
One of his greatest criticisms is that he isn't a true point guard. If you look closer you will see he is exactly what he had to be for the team to win. In the beginning coaches said he was too selfless and team minded, passing up opportunities for himself and giving them to his team mates. His game changed because his coach wanted it to change. He became the elite scorer that he needed to be for the advancement of his team. With University of Kentucky losing Kanter's contribution due to ineligibility issues, the pressure was on Knight to fill the scoring shoes of two possible stars. Others say Brandon is wiry and can't handle contact. That is nothing that some extra workouts and training can't overcome.
With the way the current Raptors line-up plays, Knight may not be the best choice only because Toronto's team is not balanced. If Toronto was to commit to getting a solid low post presence on the offensive end, then they wouldn't have to worry about Brandon's weak inside shot as much. Long gone are the days of Toronto's domination of the 3-pt stats. Bring in a real big man and a new era in Raptors basketball where they dominate the entire game and not just a stat line.
Brandon Knight is one of those rare pearls that come along only once in a blue moon. If he is still around at number 5 then the Raptors would be doing themselves and their fans a disservice not to take him and run.
Check this video out to see why Brandon Knight may very well have what it takes to be the best of his class:
Kris Cuaresma's
Conclusion
Strengths: Good height and length for the point guard position, reliable jumper, attacking mindframe, coachable, showed improvements throughout his college year, excels in the fast break, clutch performer, good lateral foot speed
Weaknesses: Trouble finishing all the way at the rim and will rely too much on floater, could improve shooting mechanics; may be more of a combo guard than a point guard, slight frame, not as athletic as point guards of similar measurements in recent drafts,
Our second straight yet final Kentucky product comes in the form of the exciting Brandon Knight. When I see him, I instantly draw physical comparisons to other young point guards like Russell Westbrook and John Wall. He isn't anywhere near as fast or as athletic as those guys, but he has the frame, and I think that's what is most intriguing about him. Potentially, he could be a very good defender at the 1 spot because of his physical tools. The NBA is already moving towards bigger and taller point guards, so drafting a Brandon Knight would give the Raptors someone they could throw at these athletic guards every night.
As for being able to play the point guard spot, I don't think he's going to make a sudden transformation. What you see is basically what you're going to get, a combo guard that you can play full time at the 1 spot - which is not a bad thing at all. I like his ability to score the ball and the fact that he took over for Kentucky during pressure situations. If he puts in the work, he has all the tools needed to become a very solid pg in the NBA.
Will the Raps take him at 5? If he's on the board, I definitely see Toronto not even hesitating to make the pick and welcome Knight to the Raptors. The last time we drafted a pg in the lottery - he turned out to win rookie of the year. So - that's a good precedent. He's easily one of the best point guards in the draft, and at 19 years of age, would be perfect with our youth movement.
Where will
Brandon Knight
go? I think there's a legit 50/50 chance he lands in Toronto. The only threat to that reality would be Utah taking him at 3 to replace Deron (though they already have Harris). Or if Cleveland takes Williams at 1, and Knight at 4. Other than that, his future home will be in Toronto.