Let's face it, there's no one left in the Western Conference that can stop Dirk Nowitzki. Aldrige was overwhelmed, while Wallace crashed. Then of course the graphic abuse of Pau Gasol was broadcasted nationally for a few games. And now we get to see multiple attempts from Collison, Perkins, Ibaka, Mohammed, and even Durant - only to fail one by one.
If the Thunder somehow found a way to remove one of Dirk's legs - yes a friggen body limb - it still wouldn't prevent him from trying that fall-away shot he likes.
If you missed his legendary performance in game 4, here's a nice clip:
But wait! The Lakers have the answer in their new head coach.
Ladies and gentlemen...Mike Brown...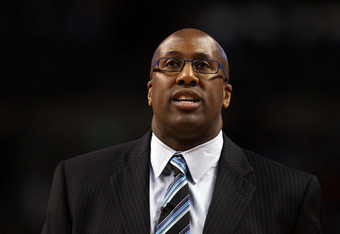 Quite a few Laker fans all over the world have this blank expression on their face, the same face Mr. Brown had during his tenure in Cleveland. Many felt he had no control over that team, so one can only hope the entertainment will be 100 times better in Hollywood.
And btw kids, you're witnessing history with the first ever GIF on the GamePointBlog. And you know what? It's a good first.