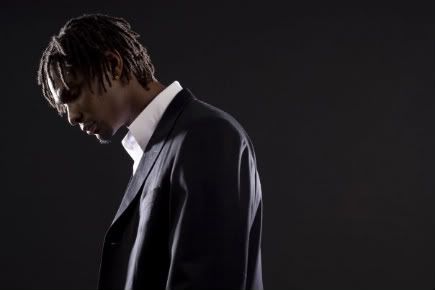 So one day in late April, I checked in on my blog and noticed a lack of something. Sifting through them, I found pieces on Hedo, the Young Gunz, the Amazing Race, video games, the Olympics, etc. But the one thing that was truly missing was a piece about the franchise - CB4. And yeah, sure, maybe I did that because every other media outlet was beating the whole "Chris Bosh" topic to death; but still.
Like many others, I don't want to take Bosh for granted. And so with the realization that he may be gone very soon, I wanted to dedicate the next 30 days or so to him with my writing and this very blog. After all, this may be my last chance to discuss him on here.
The mission - should you choose to read it - is simple. Everyday, I'll breakdown a different team's outlook in regards to acquiring our franchise player. We'll take a look at how a potential transaction will affect both sides of the spectrum, and whether or not such a move could potentially go down.
Disclaimer: Let's please keep in mind that I'm not majoring in the NBA's Collective Bargaining Agreement; so if there's a few errors here and there in that regards, please let me know. Thanks!
Previous Piece: The Charlotte Bobcats
Today's Piece: The Chicago Bulls
Players of Interests:
Luol Deng
Joakim Noah
Kirk Hinrich
Taj Gibson
Raptors Nation is quite familiar with the most recent incarnation of the Chicago Bulls. After all, they were the ones who successfully snatched a first round date with the Cleveland Cavaliers away from us. Down the stretch, they clearly wanted that 8th seed more than us - most evident by the spanking they gave us on April 11 at the ACC. Well after a decent showing against the Cavs, where does it all go from here?
According to Chris Bosh in his end of season press conference, he feels that this year's Raptors squad was just as good if not better than the Bulls at full strength.
Meanwhile, back
at the bat-cave
in Chicago, Bulls fans are more than confident in Bosh benefiting more from their core than the one in Toronto. And who can really blame them for that? A trio of Rose, Bosh, and Noah seem like a pretty solid foundation to build upon.
So let's say Bosh wants to end up in Chicago - which is a very real possibility by the way. What can happen?
Well for starters, Chicago can outright sign him because they are one of the teams under the cap. If Bosh chose to, he could sign with the Bulls for a maximum of 5 years, with about 8% yearly increases. This kind of contract typically clocks in at about 100 million over 5 years. The next question now though is: Will Bosh take that deal over what the Raptors can give him?
If he chooses to re-sign with Toronto, he can sign for a maximum of 6 years, with about 10.5% yearly increases; which adds up to be around 130 million dollars over 6 years. That extra 30 million and security is hard to pass up on. So if Chicago wants CB4 that bad, it'll probably have to be through a sign and trade.
Assuming D-Rose is untouchable, the next player that the Raps would covet is Joakim Noah. Can you imagine our Raptors team putting a player who plays with that much intensity, hustle, and heart on the court every night? He'd be a perfect fit next to Bargnani. But unfortunately, he'd also be perfect next to Bosh.
Two players the Bulls might be willing to throw at us instead are Luol Deng and Kirk Hinrich. Both have contracts that are arguably overpriced, and Chicago could easily use us as a dumping grounds. On the flipside, both Deng and Hinrich would help us out on the offensive and defensive ends. The only thing that bugs me is Deng is owed around 50 million over the next 4 years. Having to deal with that as well as Turk's ugly contract is something difficult to stomach.
It should be noted that because Chicago is under the cap, they hold more leverage over us than a team over the cap would (like Houston). In a potential Sign N Trade, Chicago could absorb more of Bosh's contract, while a team like Houston would have to give us assets in return that match within a certain range of Bosh's outgoing contract. In a nutshell, Chicago doesn't have to give us much to make the deal work. And so, this is where the mind games and chess-work start. How much are the two teams willing to compromise, and does BC take garbage if garbage is what's throw at him? If he doesn't, how does that affect what the fan base thinks of him?
Sigh.
My Preferred Scenario:
Raptors Trade Chris Bosh, Jose Calderon
Bulls Trade Joakim Noah, Krik Hinrich and/or TPE
Yeah. I realize this is a pretty lofty request, but still. This trade probably would be more complicated than what's listed above, but you get the premise. We dump Jose Calderon's contract on Chicago in return for Kirk Hinrich; who has a somewhat similar contract but ends one year earlier. We also manage to get our centre of the future in Noah, who would look absolutely awesome next to Bargs. As for Chicago, they get to pair up the best future PF in the league with one of the best young PGs of the league. At the same time, they get a point guard in Calderon who is familiar with Bosh's play style and will strengthen one of the Bulls' biggest weaknesses last season - 3 pt. shooting.
More Likely Scenario:
Raptors Trade Chris Bosh
Bulls Trade Taj Gibson, James Johnson, Draft Pick or TPE (If the Bulls are nice about it), Luol Deng (If the Raps can get rid of Turk first or soon after)
This trade scenario has a lot of "IFs" in it, but you can pretty much guarantee that when dealing with a team under the cap. Because the Bulls are considerably under the cap, they can pretty much absorb a good portion of Bosh's max deal while giving us young players on rookie contracts. With Bosh there, they have no room for Taj Gibson, and we'd be able to reunite Taj with his USC teammate DeMar DeRozan. We'd also get James Johnson, a young wing prospect that Colangelo was very high on in last year's draft. If the Bulls would like some breathing room to make other moves, they could try to throw us a TPE or Luol Deng's ridiculously bad contract. But I only see us taking that if we can get rid of Turk first. Meanwhile, the Bulls can move forward with a Big 3 of Bosh-Rose-Noah.