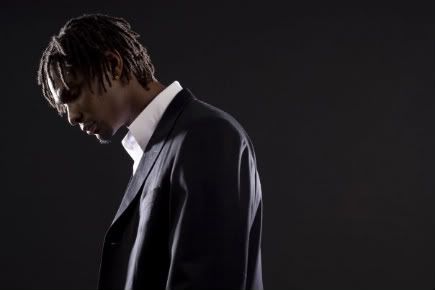 So one day in late April, I checked in on my blog and noticed a lack of something. Sifting through them, I found pieces on Hedo, the Young Gunz, the Amazing Race, video games, the Olympics, etc. But the one thing that was truly missing was a piece about the franchise - CB4. And yeah, sure, maybe I did that because every other media outlet was beating the whole "Chris Bosh" topic to death; but still.
Like many others, I don't want to take Bosh for granted. And so with the realization that he may be gone very soon, I wanted to dedicate the next 30 days or so to him with my writing and this very blog. After all, this may be my last chance to discuss him on here.
The mission - should you choose to read it - is simple. Everyday, I'll breakdown a different team's outlook in regards to acquiring our franchise player. We'll take a look at how a potential transaction will affect both sides of the spectrum, and whether or not such a move could potentially go down.
Disclaimer: Let's please keep in mind that I'm not majoring in the NBA's Collective Bargaining Agreement; so if there's a few errors here and there in that regards, please let me know. Thanks!
Today's Piece: The Atlanta Hawks
Players of Interests:
- Joe Johnson
- Josh Smith
- Jamal Crawford
- Marvin Williams
- Al Horford
- Jeff Teague
Breakdown:
Atlanta's an odd case - probably so odd that it may not have been the best of teams to start off with this month long project. On one hand, the Hawks boast a plethora of talent that Toronto could find intriguing, yet at the same time Atlanta's future outlook isn't exactly as clear cut as some may think. The organization has always struggled to put fans into seats, and their owners have always been picky in regards to the financial side of things.
Right now, the word on the street is that they would like to sell their draft pick this year, and do whatever it takes to get Joe Johnson to re-sign. And so it really hinges on that alone - the value of the Hawks as trading partners varies depending on whether they retain Johnson or not. I feel with Johnson, Atlanta ownership will be more inclined to go way over the tax with two max players.
So let's say they do re-sign Joe Johnson for the max and then attempt to grab a 2nd max player in Bosh. What can they give the Raps?
Well obviously we can cross Johnson out. Because ATL doesn't want Bosh if JJ isn't their to pair them up, and Bosh doesn't want anything to do with ATL if he can't play with Joe.
They really don't have any expiring contracts of note - other than Jamal Crawford - and I don't think they send him off to us. As the reigning 6th man of the year, Jamal played too big of a role for the Hawks. On that note, I think he's just as important to the Hawks as Johnson is.
What does catch the eye right away however is their 4 and 5 position. With Bosh incoming, the Hawks present themselves with an interesting scenario. Right now, they have Josh Smith and Horford manning the inside. In my opinion, there's not enough room for a trio that includes Bosh. So possibly - we could end up with either Josh Smith or Al Hordford, both of whom would significantly help our pathetic defense.
And then of course there's the other "scenario". Atlanta could simply play Smith at the 3 spot - something he's well capable of - and have a nasty front-court of Horford/Bosh/Smith. With Bibby, Johnson, and Crawford providing the threats from the perimeter, that's a championship kind of team.
In this case, a Sign and Trade would most certainly revolve around Marvin Williams. Though not exactly the best of returns in regards to our defensive needs in the paint, Marvin provides us with that scoring wing who is capable of defending the perimeter as well. Fairly young at 24 year old, the North Carolina product has proven he can be efficient and score in bunches when given the touches. He hasn't quite become what the Hawks expected him to be when they picked him with the 2nd pick in the 2005 NBA draft. But perhaps a new scenery - and getting away from the shot heavy duo of Johnson and Crawford - will inspire him to breakout. Throw in a couple fillers as well as a TPE, and we're as set as we could possibly be in a trade that involves Atlanta.
My Preferred Scenario:
Raptors Trade Chris Bosh
Hawks Trade Josh Smith, and Maurice Evans (3 mil expiring)
Perhaps the details need to be worked out in that trade to match everything up, but an ideal return if the Hawks were to be our partners would involve Josh Smith. He'd provide us with one of the best help defenders in the league, as well as some much needed athleticism. For Atlanta, they get Bosh to return to the place where he played college basketball and gives Joe Johnson another max player to roll with. Immediately, they have one of the best inside-outside combos with Bosh and Johnson/Crawford.
More Likely Scenario:
Raptors Trade Chris Bosh
Hawks Trade Marvin Williams, Maurice Evans, Jeff Teague and/or Future 1st round draft pick, small TPE perhaps?
In this scenario, Atlanta goes all-in kind of like how Boston did a couple of years ago. They throw away their future for a chance at genuinely contending. The only difference is their talent isn't in the twilight of their careers. This would bring a ton of excitement to Atlanta, and would send us back into rebuilding mode with assets we could develop or flip in a future trade. It doesn't look like much, but it would probably be what we'd end up getting if Bosh was dead-set on going to Atlanta.