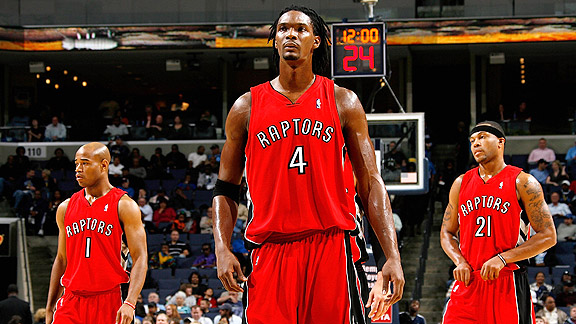 You can't tell me it didn't cross his mind. At least once. It had to.
Forget American Idol. Who cares about America's Got Talent. This is the Canadian counterpart of the NBA, and it was the only thing that Chris Bosh cared about on this night.
Yeah sure, Shaq was out. But no one in their right mind would say O'Neal's absence would have more of an impact than Bosh's absence. The Raptors rely on CB4 every night, and as their MVP, Toronto has every right to do so. Averaging 24 points and 11 rebounds a game, he is Toronto's centerpiece in the grand scheme of things. With that in mind, no one expected the Raptors to even stand a chance tonight against the first place Cleveland Cavaliers. Perhaps not even Chris Bosh...
But boy was everyone who doubted the Raps in for a treat.
Though Toronto was unable to come away with the win in an attempt to satisfy the ruckus sold out crowd at the Air Canada Centre, they did manage to impress the most important fan. Tonight, the Raptors proved several things to Chris Bosh:
1. He is surrounded by a team who wants to win as bad as he does.
2. There is talent throughout the roster; both young and of the veteran type.
3. This team has a city ready to back it up.
4. The roster is built for him, meant to take advantage of his strengths.
Make no doubt about it. Chris Bosh probably walked away from that game feeling more satisfied than any of those who managed to take in the game on a Olympic Semi-Finals night. The fact that he was so engaged through the entire game speaks volumes about what he feels in regards to this franchise and city.
With that said, it's most definitely time for the captain to return. Let's all hope that ankle of his feels better soon, because the Bucks and Bulls are galloping for us fast. Momentum is everything in the NBA, and it's starting to feel like we're losing the steam we built up before the All-Star break.
Regardless, great game tonight boys. This city easily forgives you for letting this one slip away. The team played with passion, and that's all we ever ask. On top of that, we're all hopeful Chris Bosh saw what we saw tonight.
You take James away from Cleveland, or Wade away from Miami, and I can guarantee you their respective teams don't put up as big of a fight as Toronto did without their star. Bosh has got to feel good about that, and Toronto should too.