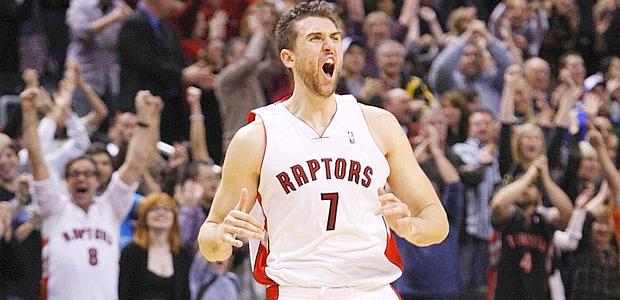 Tonight, the sport of basketball was given a rare Saturday night spotlight at the Air Canada Centre. A national stage was made ready for showcasing; a stage usually reserved for a particular blue and white. Sure, there are traditions here in this country that have etched their importance in millions of Canadian hearts. But you know what? After that thrilling 109-104 win against the Washington Wizards, I'm sure the Raptors managed to win over countless new fans throughout the country.
Yeah. We get it. Toronto is a hockey town (but don't tell that to Chris Bosh). And yes, Canada loves their hockey. There's absolutely nothing wrong with that. But understand one thing T-Dot: This Toronto Raptors team is a squad you can safely be proud of.
Don't worry, you can blindly put your trust into this Toronto-based team. You can put forth that hard earned money of yours to purchase a ticket to a home game, and you know what? You won't be disappointed. Why? Because this team has everything this city is known to love and value.
They're scrappy. They put their body on the line. They're blue collared. They're as diverse as a team you can possibly find in the NBA. They have that finesse game. They oohh. They ahh. And most importantly, they have that one figurehead, a captain, a star capable of being so big in this city that they could put it up on top of the CN Tower for Christmas.
And what a better time to showcase all of this than on CBC during a very rare "Basketball Night In Canada". That game had to rank near the top in regards to intensity this season for the Raptors. It had everything. Heck, both teams even drew blood. A Toronto team that doesn't take losing very well - it's refreshing and something we should embrace.
Whether it was Jarret Jack leading the charge, Turkoglu hitting timely buckets, or Bargnani defending the basket with force, Toronto and Canadian basketball fans were on their feet.
Basketball Night In Canada. It has a certain ring to it doesn't it?